See on Scoop.it – Nebraska and National Legal and Other News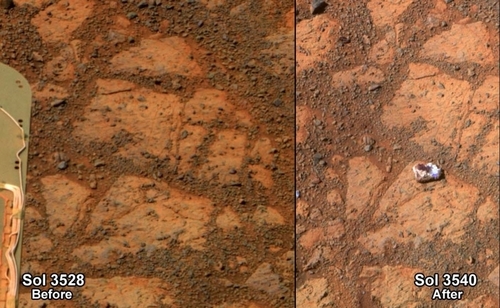 Read the suit in all its glory here.
Jeffrey Lapin's insight:
Rhawn Joseph, Ph.D., a self-described scientist and author, filed a Petition for a Request for a Writ of Mandamus against NASA and the NASA's Chief Administrator. A writ of mandamus is an order from a court ordering a public official to perform his or her official duties. The Petition relates to an object that showed up in a some images from the Mars Opportunity Rover. The title of the Petition gives an indication of what Mr. Joseph believes the object is:
In Re RHAWN JOSEPH'S PETITION FOR A WRIT OF MANDAMUS COMPELLING NASA TO PERFORM A DUTY TO THOROUGHLY SCIENTIFICALLY EXAMINE AND INVESTIGATE A PUTATIVE BIOLOGICAL ORGANISM ON MARS IDENTIFIED/DISCOVERED BY PETITIONER AND REFERRED TO BY NASA AS "UNLIKE ANYTHING WE HAVE SEEN BEFORE"
Among the things the court to order is:
NASA must give the petitioner: A) the authority to act as an observer at the rover command facility to insure that the Court's orders are carried out in good faith, and B) the authority to appoint two NASA astrobiologists to the rover team. If the organism is biological, NASA must publicly acknowledge that the discovery was made by the Petitioner and must ensure that Petitioner appears as first author on and has final editorial approval of the first 6 scientific articles published or submitted for publication by NASA employees which discuss and present this discover.
This Petition was filed by Mr. Joseph himself; he does not have an attorney.
NASA has explained that the item is a most likely a rock that landed where it did either because of a nearby impact or the Rover knocked the rock out of the ground.
Article by: Colin Lecher via Popular Science
See on www.popsci.com